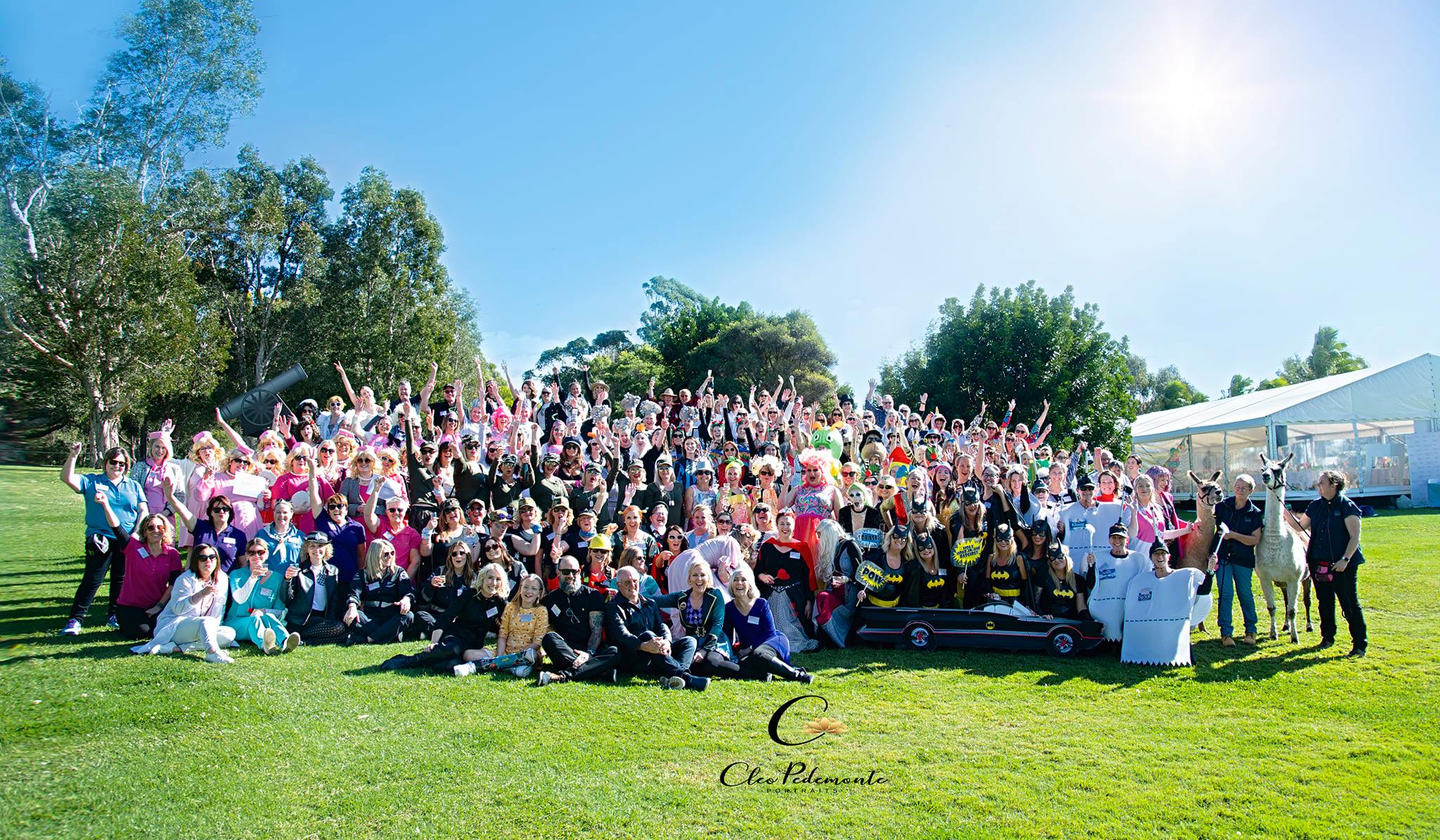 Well... we did it! We finally had the ten year anniversary event and wasn't she a beauty!
After a lightning fast 8 hour sell-out in early 2020, enduring a global pandemic, battling through a number of lockdowns, rescheduling the event, teams withdrawing, more teams lining up, a waitlist a mile long and a nervous wait to see if it would happen at all. Throw in a 400sqm marquee and a bunch of generous donors for the hire cost and Divas on the Green 2021 became a reality.
What transpired this year, was beyond my wildest dreams. An absolutely spectacular sight to behold, with 200 colourfully dressed people packed into that gorgeous, classy marquee.. all ready for a party. What a vibe and what a celebration it was. One of my favourite parts of the day, was watching the joy on everyone's faces as we sang. Here's a reminder of that really poingnant moment. I will never forget it.
Thanks to Anthony and Lou from Scion Audio & Events for your expertise in all things events. It was a first ever for me in a marquee and there was a lot more to think about. I couldn't have done it so professionally without you.
Meg was certainly with us as we celebrated her birthday and the wonderful human she was, she inspired so many in our community. Thank you to Craig from Hunter Signs for making that beautiful sign for the marquee. Honouring Meg made it a very special day for all of us. Thank you to Scott, Bob, Noleen, Mike and Jenny, for allowing us to share it with you.
We had some beautiful media coverage too, from NBN News,  the Newcastle Herald, Newcastle Weekly and a sneakly little interview with Newcastle LIVE radio.
BREAKING NEWS!
Divas on the Green raised a whopping $30,000.00 in 2021, with each charity receiving $15,000.00 each!
We've now cracked the $155,000.00 mark for collective funds raised for both charities with this single event over the past ten years! That's a lot of people we have potentially helped through these wonderful services.
Feeling very proud right now. :-)
THANK  YOU
Where do I start with all the thank yous... 
I'll begin with my fabulous Gold Sponsors:
Jirsch Sutherland
The Sista Code
Delaney Roberts Family Law Specialists
HIC Services
MOVABLE
Thank you to my fantastic Silver Sponsors:
Maroba
Emily Rees - Laing & Simmons
Women Embrace Adventure
Wrapped to You
Puro People
Beaute & Be
Shaw Gidley
The Famous Rock Shop
I would like to thank and acknowldege Meg's Marquee Sponsors:
Tready Softly 
Margaret Godfrey - Smartline Personal Mortgage Adviser
Shaw Gidley
Westpac Rescue Helicopter Service
Huge thanks to all of my In Kind Sponsors:
Engineroom Design
Timberlina
Nell Dark-Jones Celebrant
Margaret Godfrey - Smartline Personal Mortgage Adviser
EAO Entertainment
Lee Illfield Photography
Cleo Pedemonte Portraits
AJM Photography
Symphonia Fine Wines
Tread Softly
McKiernan Real Estate 
Beaute & Be
The Socialite Events
Cooks Hill Parkside
Myrtec
Hunter Signs
O'Sullivan & Turner Travel Associates
Lyndall Talbot
Jo and Alex Barr
To each and every one of you, your contribution was very much appreciated and I sincerely hope you were ALL rewarded with new business and relationships and a bloody good time to boot.
Special thank you to my amazing guest speakers, Dr Jodie Fleming and the brave Millicent Campbell for sharing your incredible stories with us all. There wasn't a dry eye in the house after listening to your experiences and you reminded us why it is so important to support services in our community such as the WRHS and HBCF and more importantly, why we need to support each other.
Thanks to Ellie Wells, Richard Jones & Mark Overton for telling us about the important work both of these services are doing in the community.
Now... where would we be without the fabulous Timberlina at Divas on the Green??? From dancing up a storm in the marquee, auctioning off practically everything in sight, to running a non-stop party with the Nell Dark-Jones and the Llama Collective on the 16th hole and wrapping up the event with a mind blowing final song and dance, which incidentally brought me to tears just watching all that joy in the room. Absolutely priceless. Thank you, thank you, thank you LEGEND!
I also need to acknowledge the huge generosity of our auction winners and behind the scenes donors for helping to raise a cool $14,650.00 in that little auction frenzy! Who would have thought... love your work Frances Crampton from Fourth Wave Wine, Jan Bynon from HIC Services, Megan Faraday-Bensley, Nell Dark Jones, Kim Oakhill, Scott Mills, Jules Constable & Jandy McCandless!
Another $520.00 came in through the Candy Bar thanks to the beautiful Margaret Godfrey.
Huge thanks to my goodie bag packing helpers, Jade Pearsall, Brooke Brugnoni, Danielle Owens, Gai Alder, Kellie O'Sullivan and Gina Borelli who took some time out of their day to help me get the stuff in all those goodie bags! All done in 2 1/2 hours which was amazing considering the amount of stuff that had to be stuffed! Thanks to Jan Bynon and Sam Leach for helping us drag them all over from the clubhouse to the marquee!
I would also like to thank Mum and Dad for taking registrations at the door and handing out goodie bags (tough gig that one!) and to Grace McLean for being an all round helper on the day. To Ellie and Abbey from HBCF for managing the raffle ticket sales and helping me with the draw and to the fabulous Yvette Cavanagh for pouring the champers and the lovely TAFE students Rory & Mia for being our order runners for the day!
Also thanks to Adam, Kara, Erin, Brian and all the staff at Merewether Golf Club for being ever so helpful and accommodating which is so important in making the day run smoothly.
Finally, I'd like to give a huge shout-out to all of the fantastic prize and product donators (listed below). The online raffle, monster raffle, prize pool and goodie bags wouldn't have been possible without you all!
Bronnie Coupe
Emma Rudkin
Jill Mitchell
Janina Pusz – Independent Body Shop Consultant
NEXT YEAR
Here I was contemplating putting this event into retirement after ten years at the helm, but how could I after what transpired this year?
So.... I've set a new date, and yes there will be another marquee involved as the clubhouse will still out of action! I'll work out how I'm gonna pay for it later...
Lock this in your calendars Divas!
***FRIDAY 20TH MAY 2022***
If you're keen to be involved in next year's event and/or know someone who might like to be involved in any capacity (playing, sponsoring, prize donations or generally helping out), I would love to hear from all of you!
Don't forget to check Instagram and the Divas Facebook page, there are plenty of fabulous photos uploaded. Feel free to download, tag or share any favourites. If you're able to, crediting our wonderful photographers when you share would be lovely. They worked so hard to capture these beautiful memories for us all.