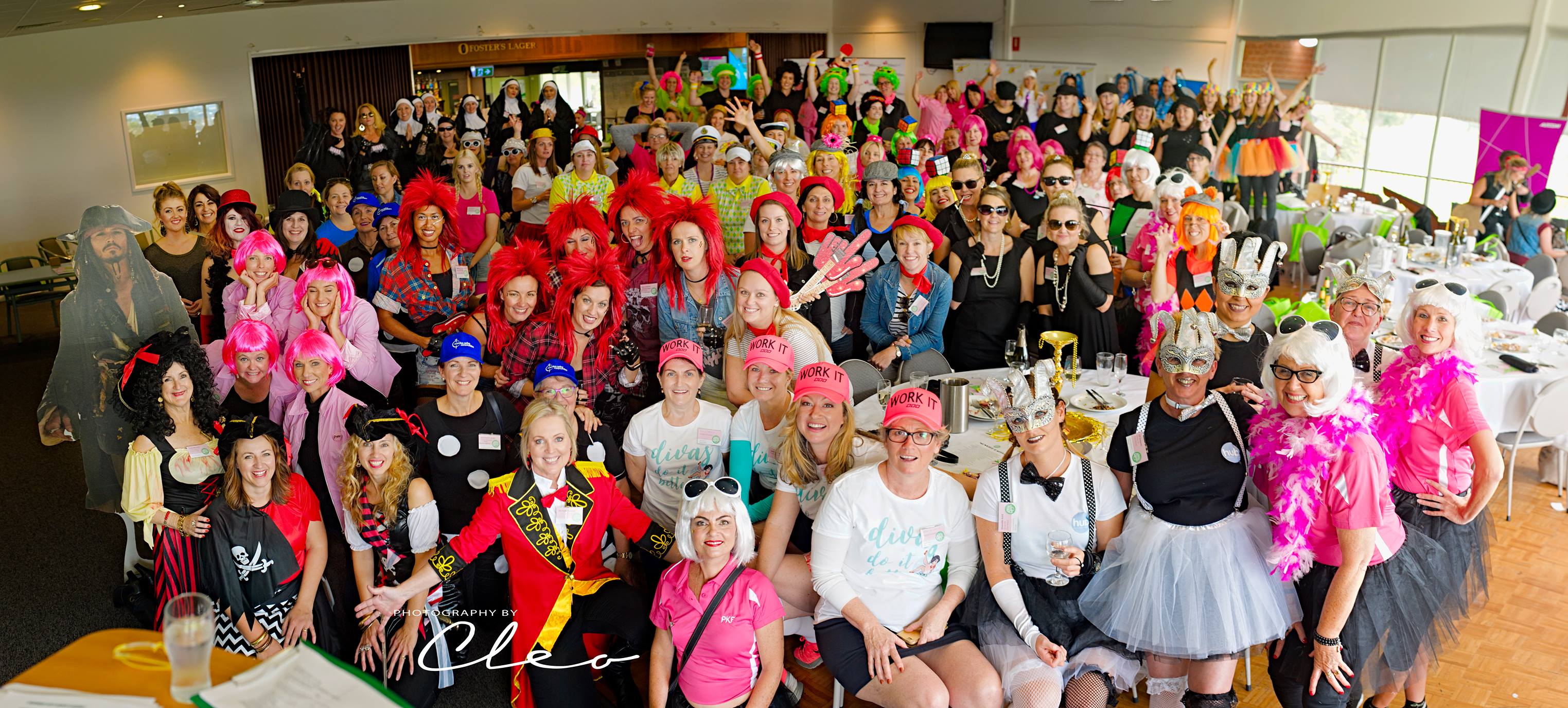 So the seventh year of this crazy event went off with a bang and in true Divas fashion, there was no rain!! We are truly blessed.
I cannot believe the lengths all the Divas go to with fancy dress, this year has been the best yet in terms of numbers dressing up...absolutely incredible! I just love it! Seeing the happiness, colour and positive energy in the room is my WHY. Pure and simple.
If you weren't there in person this year, you missed an awesome day! I would however like to personally thank each and every one of you who were involved, for your generosity which always makes the day such a success. Whether you were playing on the day, purchasing raffle tickets and bags of lollies from the Candy Bar, downing glasses of champagne, donating your time and/or prizes, I thank you all so very much!
As usual, there are lots of individual acknowledgements to get through, so here goes...
First and foremost, to my wonderful GOLD Sponsors; Jirsch Sutherland, and Tillys Play & Development Centre. Your presence on the 5th and 9th holes this year was very much appreciated by all and I sincerely hope you were rewarded with new business and relationships. An extra $300 in donations taken at the 9th hole was an awesome surprise by the Jirsch team! Thanks ladies! 
Thank you to my fantastic SILVER Sponsors; Puro People, italk Travel, Maroba Aged Care, Viv Gambrill - ANZ Mobile Lending, AECOM, Fox Stevens Conveyancing and Experienced Business Solutions. A huge high five to you all!
Thanks so much to the beautiful Jordi and Sam from VibrantConcepts for showing us how to shine at any age. I must say...Lyndall was the perfect model! As well as donating 4 x $100 vouchers for personal styling sessions as prizes for the best dressed, the girls also generously donated and extra $105.00 in sales made on the day. Beautiful girls with beautiful hearts.
Ahh the cart tarts...where would we be without them? Thanks to Richard and Matthew from WRHS and PJ and James for looking after everyone on the course. It's a tough job to get around to each and every thirsty Diva, I appreciate your efforts immensley. It was great to finally have Richard there after all these years (now he knows what all the fuss is about!) and the added touch of PJ and his ukelele was definitely a highlight for me. Might have to ask them all back next year eh?
A big bubbly thanks to Lou and the team from Tamburlaine Organic Wines for donating the champagne/wine for the lunch, a carton of wine for the raffle and also for holding a little tasting stall on the 5th hole. If you liked what you tasted, you can still download an order form here for their special Winelovers Range and $50.00 from each case goes to Divas on the Green! The offer is valid until 1st September 2017.
I'd like to also say thank you to Patrick Harris and co for manning the betting hole on the 16th. Not only did you look after the ladies out there, but you were a great help to me on the day overall. Loved the outfit too!
Thanks again to Lisa Bartley, President of the Hunter Breast Cancer Foundation for filling everyone in on the important work of the Foundation and Leyah Jones, HBCF Supportive Care/ Fundraising Coordinator and Rosalie Taggart for manning the merch stand. $550.00 in merch sales is absolutely wonderful. 
Special thanks to Margaret Godfrey Smartline Personal Mortgage Adviser for purchasing all the lollies for the Candy Bar and donating the entire sales of the day (around $450 worth!). Thank you Margaret for standing at the stall for a few hours while everyone filled their bags, I really do appreciate you taking the time to do this.
Thanks also to Kylie Farrugia from Westpac Rescue Helicopter Service for being my WRHS support person leading up to the event. WRHS generously provided their visitors' room for me to pack the bags, they kindly supplied a driver (thanks Adam!) to take them all to the club for me, they donated a lovely hamper for the raffle and a box of wine to auction which incidentally Lisa Tierney and the team from Compass Housing purchased for cool $400.00! I believe they split the cost and the wine and have since reported that it is a very nice drop!
Huge thanks to Donna and her team, Jo, Peta, Caitlin, Margaret, Melany and Kate for helping me pack the goodie bags. You seriously were an awesome production line this year! I could not have done it without you all!
I would also like to thank Jenna Drelincourt for taking registrations at the door and handing out goodie bags (tough gig that one!), Andrea McMillan for doing a fantastic job again selling raffle tickets and also Mick, Melanie, Pete and all the staff at Merewether Golf Club for being ever so helpful and accommodating which is so important in making the day run smoothly.
A special mention to two wonderful women who sponsored in kind on the day. Cleo Pedemonte from Photography by Cleo and Karen Bright from The Socialite Events. A lot of hard work was expended on their part and the day just would not have been the same without their creative input. I am truly grateful for your contribution. Divas make sure you check out their Facebook pages!
Some more high fives all 'round for these two businesses. Engineroom Design and Myrtec have been exceptionally generous in donating their time and resources every year. The team at Engineroom Design are responsible for the Divas logo, all the design work involved with these electronic mail outs, name tags and promotional material. I can't thank them enough for all their help, they're a fantastic team! Myrtec kindly donated their time in 2014 to create the Divas website and they continue to host and manage it on an ongoing basis! If you haven't checked it out, take a look here. 
I'd also like to acknowledge the Botterell Business Consultants team who unfortunately had to pull out on the day due to some work emergencies, but generously decided not to ask for a refund. Thank you so much for this donation, I really appreciate the gesture. I still have 4 goodie bags waiting for you!
Net profit for the day has come out at $16,000.00 with a tidy $8,000.00 going to each charity. Not a bad effort for a lot of frivolity on the green!
As I keep saying year after year, Divas on the Green isn't about making truckloads of money. I'm not paid to run the event. It's become a personal hobby and it's about the connections, the relationships, the continued affordability for small businesses to be able to contribute to charity, gain some exposure and have a fun day out. For me it's always been about keeping it simple and that ain't about to change any time soon!
You're all currently on the invitation list for next year, so if you have some friends who would like to be involved, send them over to the website to sign up for the mailing list. 
Feel free to unsubscribe if it's not your thing (see the link at the bottom of this email). However, if you ARE keen AND you know someone who might like to be involved in any capacity (playing, sponsoring, prize donations or generally helping out), send them my way!
Don't forget to check Instagram and the Divas Facebook page, there are plenty of fabulous photos uploaded. Feel free to download, tag or share any favourites.  
Finally, I'd like to give a huge shout-out to all of the fantastic prize and product donators (listed below). The monster raffle and prize pool wouldn't have been possible without you all!
·         Cornerstone Strength & Conditioning
·         Westpac Rescue Helicopter Service
·         Hunter Breast Cancer Foundation
·         Viv Gambrill of ANZ Mobile Lending
·         Pride Dry Cleaning & Laundry
·         Shane Salgalis – Arbonne Independent Consultant
·         Jenna Drelincourt - Mary Kay Consultant
·         Cooks Hill Parkside Apartment
·         Carlee Maree - Living Vibrantly
Cheers
Michelle