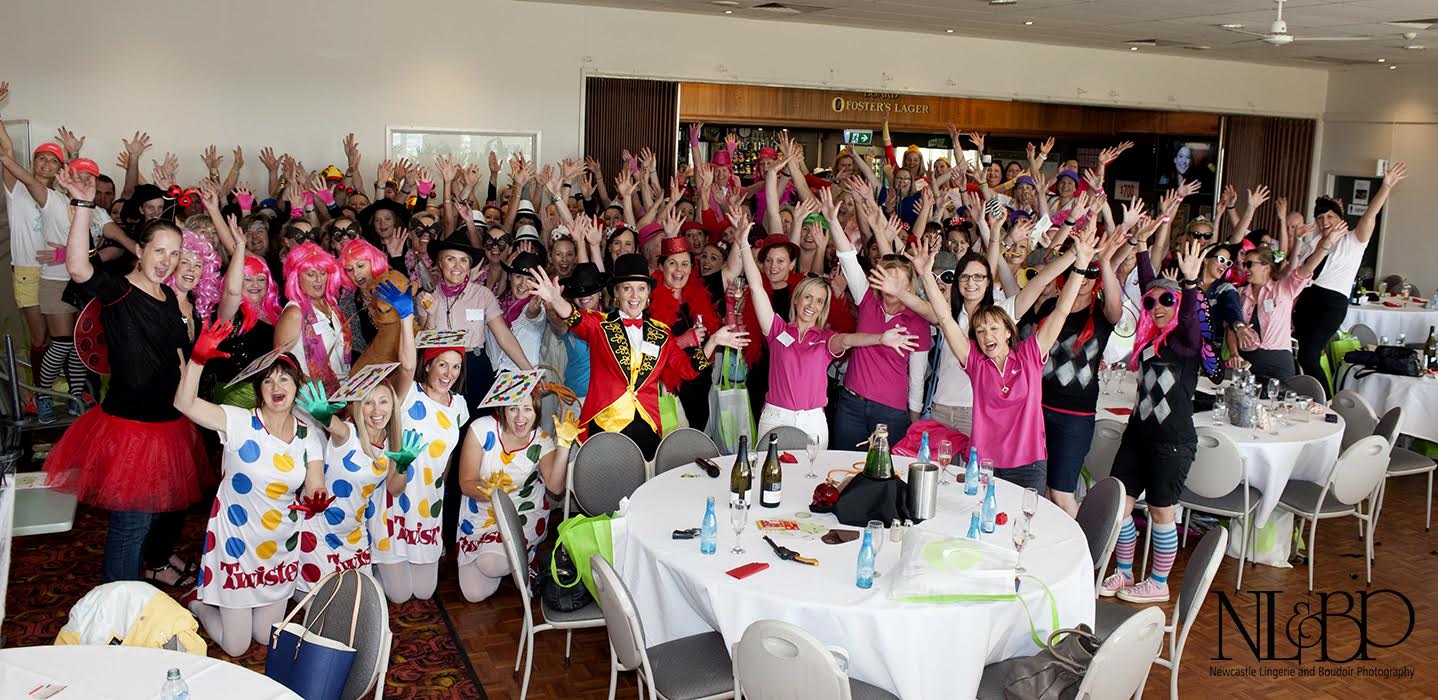 Ahhhh the carnival is over for another year...I'm always a bit sad the week after the event. There's so much hype and excitement during the lead up to the big day and when it arrives, it's such a happy occasion for all! Six years on from conception and I have to say I'm a little proud of what it has become. I never imagined I'd still be doing it after all these years... but hey, it's addictive.
I always take the time on the day to be 'in the moment'. To stand up on that podium and look out at all the colour and positive energy filling the room. It makes me realise WHY I do it..
If you weren't there in person this year, you missed an awesome day! I would however like to personally thank each and every one of you who were involved this year for your generosity which made the day such a success. Whether you were playing on the day, purchasing raffle tickets and bags of lollies from the Candy Bar, downing glasses of champagne, donating your time and/or prizes, I salute you all!
There are so many individual acknowledgements to get through, so here goes...
First and foremost, to my wonderful GOLD Sponsors; Jirsch Sutherland, Dalton Partners and Moray & Agnew. Your presence on the holes this year was very much appreciated by all and I sincerely hope you were rewarded with new business and relationships.
Thank you to my SILVER Sponsors; Roberts Legal, italk Travel, Maroba Aged Care, Forsythes Business Advisors, Viv Gambrill - ANZ Mobile Lending, Peony Property Staging, Myrtec and Engineroom Design. A huge high five to you all!
Thanks Todd Mulville for entertaining and inspiring us with your stories of life as a Crewman with the Westpac Rescue Helicopter Service. Such an important service for the region, we're all in awe of what you and the team do on a daily basis. Hats off.
Thank you also for backing up on the course as one of our fabulous "cart tarts" along with Nathan and Chrystal from the WRHS and Kerry Walker from SafetyWorks Group. There is absolutely no way I could manage the whole course on my own. You're worth your weight in gold :-)
A big bubbly thanks to First Creek Wines for donating all the champagne for the day and also for holding a little tasting stall on the 16th hole. First class champers and first class people for being so generous!
I'd like to also say thank you to Scott Pfeiffer for manning the betting hole on the 16th. Not only did you look after the ladies (and one gentleman) out there, but you were a great help to me on the day overall.
Thanks again to Lisa Bartley, President of the Hunter Breast Cancer Foundation and Alli Hill, HBCF Supportive Care/ Fundraising Coordinator and her hubby for manning the merch stand and filling everyone in on the important work of the Foundation. $1,100.00 in merch sales is absolutely wonderful. It must have been all that bling! Well done Divas.
Special thanks to Eliza Taylor and Michael Kelly from Industrees for purchasng all the lollies for the Candy Bar and donating the entire sales of the day (around $500 worth!). Thank you Eliza for standing at the stall for a few hours while everyone filled their bags, I really do appreciate your efforts.
Thanks also to Kylie Farrugia from WRHS for being my WRHS communication line leading up to the event. Huge thanks to Kat Blythe, Karissa Lewis, Donna Spillane, Jo Crosbie, Kerren Robards, Jacci Dodson, Caitlin Johnstone, Kerri-Ann Irwin Hooper and Lisa Robinson for helping me pack the goodie bags. I could not have done it without you all!
I would also like to thank Melanie Scott and Naomi Tyrrell for taking registrations at the door and handing out goodie bags (tough gig that one!), Andrea McMillan and Alison Hough for doing a fantastic job selling raffle tickets and also David, Megan, Pete and all the staff at Merewether Golf Club for always being ever so helpful and accommodating which is so important in making the day run smoothly.
A special mention to two wonderful women who sponsored in kind on the day. Maree Bendeich from Newcastle Lingerie and Boudoir Photography and Karen Bright from The Socialite Events. A lot of hard work was expended on their part and the day just would not have been the same without their creative input. I am truly grateful for your contribution. Divas make sure you check out their websites and Facebook pages!
Last but not least, Engineroom Design and Myrtec have been exceptionally generous in donating their time and resources every year. The team at Engineroom Design are responsible for the Divas logo, all the design work involved with these electronic mail outs, name tags and promotional material. I can't thank them enough for all their help, they're a fantastic team! Myrtec kindly donated their time in 2014 to create the Divas website and they continue to host and help me manage it on an ongoing basis! 
Profits from the day saw both the Hunter Breast Cancer Foundation and the Westpac Rescue Helicopter Service receive $7,000.00 each. 
The figures are a little down from last year, as there were a few sponsors that could not commit this time around. But you know what? It's not really about making the event bigger and fundraising more and more each year. It's about the connections, the relationships, the continued affordability for small businesses to be able to contribute to charity, gain some exposure and have a fun day out. For me it's about keeping it simple.
See you all again next year!
Michelle